Why Choose The Dog Guy?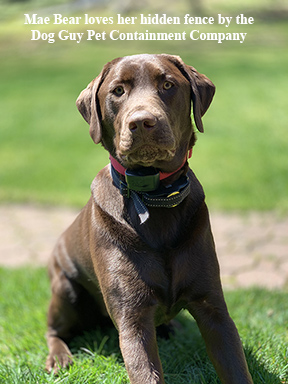 1. Experience
The Dog Guy Pet Containment Company has been surrounding dogs with freedom and safety for over 27 years with our experience safe and effective training. We have safely contained all types of dogs and dog personalities. Our products are used by a pet owners veterinarians, pet professionals, groomers, trainers etc.
2. Customer Service
Referrals from happy customers are a big part of our business, so customer service and on-going support are two of our top priorities. We encourage you to let us know how we are doing, and if you have questions or comments, please don't hesitate to contact us. For your convenience, there is a Customer Blog form you may leave comments on. (Click Here)

3. Cost
The Bottom line is that a Underground fence is more versatile, safer and much less expensive than traditional fencing. The price for a Underground fence varies depending on the size of your yard and other factors, but – all other things being equal – a Underground fence is a better value than a traditional fence. Full lightning protection, and a Lifetime Warranty included, the comparison always adds up in favor of The Dog Guy Pet Containment Company.

4. Commitment
We here at the Dog Guy Pet Containment Company are dedicated experience professionals who are committed to providing you with a quality product and quality service. We are locally owned and operated, so we have a vested interest in customer service & satisfaction. Our business depends on keeping you happy and your pets safe!